Long-Term Outcome After Arthroscopic Meniscal Repair Versus Arthroscopic Partial Meniscectomy for Traumatic Meniscal Tear
July 6, 2022 – MeniscusTears.com
This study was conducted to learn whether patients with traumatic meniscal tears have better long-term outcomes if their meniscus is repaired versus partially removed.
This study involved 81 patients with meniscal tears. Prior to their injuries, some participated in recreational sports 5 or more times a week ("athletes"), while others were less active.
Patients in the two groups (meniscus repair and partial meniscus removal) were compared based on three outcomes: osteoarthritis progression, ability to play sports at a pre-injury level, and knee function.
Outcomes were compared between the two groups at two different points following their surgeries: after 2 to 5 years ("mid-term"), and again after 5 to 8 years ("long-term").
Success rate after meniscal repair was 86% vs. 90% for partial meniscus removal
Mid-term outcomes for all patients: Both the meniscus repair and removal groups showed similar results in osteoarthritis progression, return to pre-injury sports activity level, and knee function.
Long-term outcomes for all patients:
A higher percentage of patients in the repair group (81%) had no progression in osteoarthritis than those in the removal group (40%)
Nearly all patients in the repair group (96%) regained their pre-injury sports activity level vs. half of the patients in the removal group
No significant difference between the repair and removal groups in knee function
Outcomes for athletes: At both mid-term and long-term time-points, more patients in the repair group (over 94%) regained their pre-injury sports activity level compared to the removal group (around 50%). For patients 30 years and younger, meniscus repair also slowed osteoarthritis progression compared to partial removal.
This study shows that arthroscopic meniscal repair offers better long-term results in terms of preventing osteoarthritic progression and regaining sports activity than partial meniscus removal.
DON'T
LET SOMEONE


REMOVE YOUR MENISCUS
Save your meniscus to prevent future surgeries and health issues by repairing it with the FDA approved NovoStitch Pro Meniscal Repair System invented by Dr. Saliman.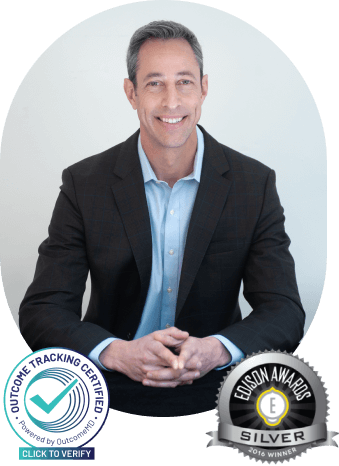 Meet the awarded surgeon and entrepreneur
with the most advanced Meniscal Repair Treatment
Dr. Justin Saliman, a seasoned knee orthopedic surgeon, invented the Edison Award winning "Novo Stitch Pro Meniscal Repair System" to arthroscopically sew back all meniscus tear types – including those previously considered difficult or impossible to sew.
Minimally-invasive, the system involves a "Circumferential Stitching Technique" that has proven superior to traditional meniscus repair techniques. As a result, patients heal pain and dysfunction while preventing arthritis and knee surgical replacement in the long-term.