Long-Term Outcome After Meniscal Repair
February 6, 2023 – MeniscusTears.com
This study was conducted to identify factors that increase the probability that a patient's meniscal repair will be successful.
The researchers reviewed the medical records of 119 patients who had undergone meniscal repair.
The researchers looked at many different factors including the age at time of injury, time between injury and meniscal repair, location and size of tear, knee function, and severity of osteoarthritis. The repair was considered successful if, during follow-up appointments, the patient did not have pain that interfered with activity or have knee catching/locking/giving away or significant swelling, and if the patient did not require further surgery on the repaired meniscus.
Medical records were reviewed for 6 years post-surgery, on average.
Overall success rate of meniscal repair was 74%
The following factors were found to lead to higher probability of success:
Age: Meniscal repairs done in younger patients had a significantly higher success rate
Time of surgery: Patients who had their surgery within 6 weeks of injury had a higher success rate (83%) than those who had it later (52%)
Also, patients who also had an associated ACL rupture had significantly better meniscal outcomes when the meniscal repair and the ACL reconstruction were done together
Those who did not have a successful meniscal repair were more likely to progress to osteoarthritis than those whose repair went well
This study shows that arthroscopic meniscal repair has a very high success rate, especially in younger patients, and for those whose repair is done within 6 weeks of injury.
DON'T
LET SOMEONE


REMOVE YOUR MENISCUS
Save your meniscus to prevent future surgeries and health issues by repairing it with the FDA approved NovoStitch Pro Meniscal Repair System invented by Dr. Saliman.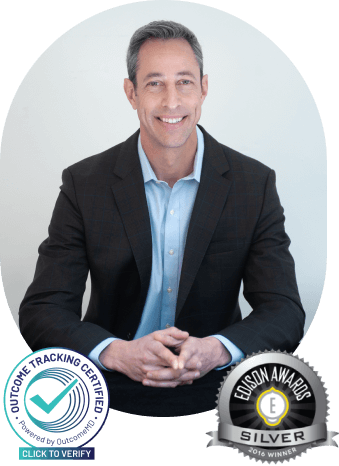 Meet the awarded surgeon and entrepreneur
with the most advanced Meniscal Repair Treatment
Dr. Justin Saliman, a seasoned knee orthopedic surgeon, invented the Edison Award winning "Novo Stitch Pro Meniscal Repair System" to arthroscopically sew back all meniscus tear types – including those previously considered difficult or impossible to sew.
Minimally-invasive, the system involves a "Circumferential Stitching Technique" that has proven superior to traditional meniscus repair techniques. As a result, patients heal pain and dysfunction while preventing arthritis and knee surgical replacement in the long-term.