Repair of horizontal meniscus tears: a systematic review
September 27, 2022 – MeniscusTears.com
This study involved a review of medical literature to determine the type of outcomes patients have after repair of horizontal meniscus tears.
The researchers included articles about patient studies that met the following criteria:
Published up to 2013
Included data on patient outcomes after horizontal meniscal repair
The studies were reviewed to determine whether repairs were successful, meaning the patients did not require an additional surgery.
Patients were followed up for an average of 11 to 70 months after repair, across all studies.
There were nine patient studies included in this review, involving 98 repairs in total
Repair success rate was 78% across the studies
Success rate differed depending on which surgical technique was used to repair the tear, with inside-out repairs having the best results
Patients with failed repair were more likely to have progression in osteoarthritis
This study shows that the surgical repair of horizontal meniscal tears have a strong rate of success, similar to repairs of other types of meniscal tears.
DON'T
LET SOMEONE


REMOVE YOUR MENISCUS
Save your meniscus to prevent future surgeries and health issues by repairing it with the FDA approved NovoStitch Pro Meniscal Repair System invented by Dr. Saliman.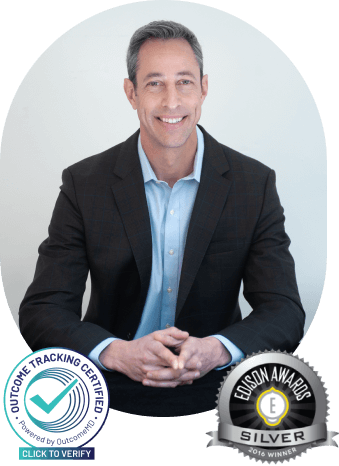 Meet the awarded surgeon and entrepreneur
with the most advanced Meniscal Repair Treatment
Dr. Justin Saliman, a seasoned knee orthopedic surgeon, invented the Edison Award winning "Novo Stitch Pro Meniscal Repair System" to arthroscopically sew back all meniscus tear types – including those previously considered difficult or impossible to sew.
Minimally-invasive, the system involves a "Circumferential Stitching Technique" that has proven superior to traditional meniscus repair techniques. As a result, patients heal pain and dysfunction while preventing arthritis and knee surgical replacement in the long-term.