The effects of meniscus injury on the development of knee osteoarthritis: data from the osteoarthritis initiative
February 6, 2023 – MeniscusTears.com
This study was done to examine the relationship between size and type of meniscus injury and the development of osteoarthritis (OA).
This study involved 32 patients who developed OA in their knees, and 63 patients of similar age, same sex, and body mass index who did not develop OA.
Practice will disclose your personal information, without notice, only if required to do so by law.
In all patients, knee characteristics were examine (presence/location/size of meniscus tears).
Those who developed OA did not have a significantly higher rate of meniscal tears versus those who did not develop OA.
However, medial meniscus extrusion (displacement of the meniscus), radial tears (occur in inner part of meniscus) and complex tears were more common in patients with OA compared with those without OA.
Knees with meniscus tears with greater radial involvement and extrusion were at higher risk for development of OA.
DON'T
LET SOMEONE


REMOVE YOUR MENISCUS
Save your meniscus and prevent future arthritis by repairing it with the most technologically advanced system invented by Dr. Saliman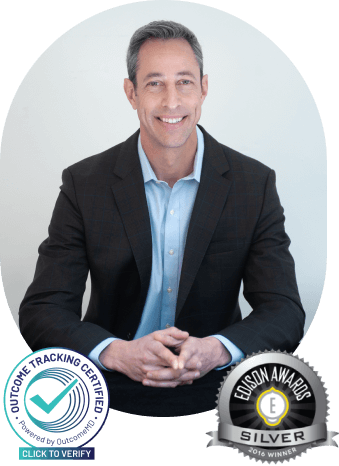 Meet the awarded surgeon and entrepreneur
with the most advanced Meniscal Repair Treatment
Dr. Justin Saliman, a seasoned knee orthopedic surgeon, invented the Edison Award winning "Novo Stitch Pro Meniscal Repair System" to arthroscopically sew back all meniscus tear types – including those previously considered difficult or impossible to sew.
Minimally-invasive, the system involves a "Circumferential Stitching Technique" that has proven superior to traditional meniscus repair techniques. As a result, patients heal pain and dysfunction while preventing arthritis and knee surgical replacement in the long-term.